Printing Instruction
Go to https://print.law.uh.edu/myprintcenter/
Login with your cougarnet credential: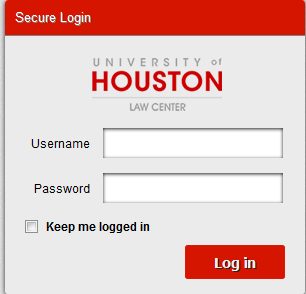 After choosing the document, click on open. It starts processing. Processing may take a few seconds so you have to wait till it is complete.
After processing the screen will be
You can check out the print preview of the document, no. of page, and much more of every document you upload
If you want to change the page settings of a document you can choose the setting you need
You can also refresh by pressing the refresh button if you can't see the document which you have uploaded and also delete respective document by clicking on the check box
By clicking on the Activity tab you can see all the print activity you have done till date
Once your document has been uploaded, go to any available student printer and follow steps:
Press touch screen located next to printer
Swipe student ID card
Enter your Cougarnet ID and password (only required for first use.)
Select the document you want to print.
If you do not have a student ID card (Cougar Card,) you can still print. Just touch the screen, enter your cougarnet userid and password, and then select the item you wish to print. There are six student printers located throughout the Law Center. The Yellow and Green printers are located in room 1C of the Law Library; the Blue, Purple and Red printers are located in the commons and the Orange printers are located in the TUII study area.