What is Two Factor Authentication (2FA)?
2FA dramatically improves the security of your data. 2FA requires you know something - like a password or account and you have something - like a cell phone.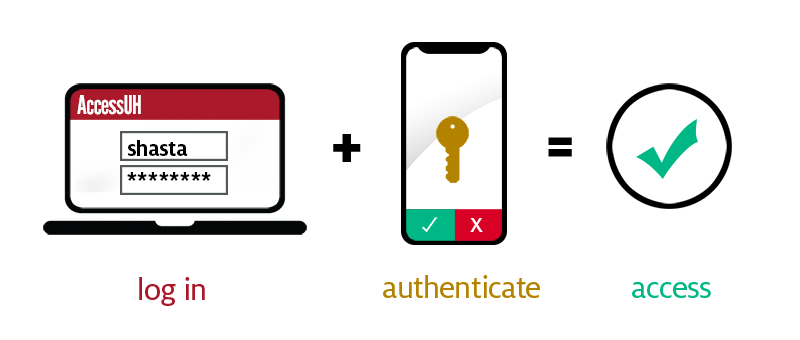 About Two-Factor Authentication
Important Dates &
Information
August 17, 2020
all students, faculty and staff will be enrolled in 2FA on AccessUH
When will I be prompted for 2FA?
When you log in for the first time with a new browser or device you will use 2FA to confirm that it is you. After that, you will not need to use 2FA to confirm your identity on that browser again for 30 days
2FA (two-factor authentication): an additional layer of authentication beyond a username and password. 2FA involves something you know (password) plus something you have with you (like Duo Mobile on your smartphone) to prevent someone from logging in with only your password. With Duo 2FA, you still enter your username and password. The second factor provided by Duo is simply an added layer of security on top of your existing credentials.
What authentication method is right for me?

Select:
| | |
| --- | --- |
| | Duo Push if you prefer using a mobile app, download the Duo Mobile App |
| | Call Me if you prefer that you get a call that will ask you to "push any number to proceed…" |
| | Passcode if you prefer to enter codes created within the Duo Mobile App or using a hardware token provided by an administrator. |
| | Passcode if you prefer receiving SMS texts to your Smartphone. Click Send codes to have a new passcode texted to your phone. |
What device should I select?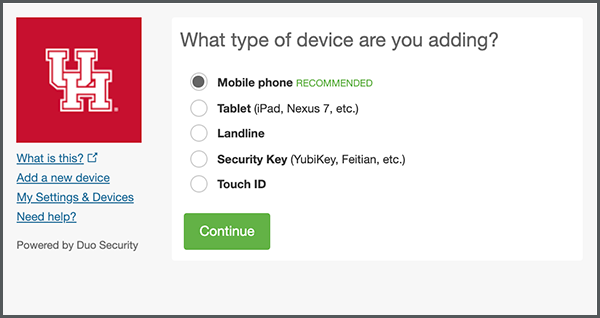 Android phones can receive push/text/call/biometric/passcode
Android tablets can receive push/passcode
iPhones can receive push/text/call/biometric/passcode
iPads can receive push/passcode
Landline can receive a call back
Security key can receive a passcode
If you would like to register for 2FA before August 17, 2020, you can follow this link. Registration only takes a few minutes.
For More Information visit the site below: